Be Koi
Hey Guys,
I was at the Cape Town meetup on the 27th, met the community for the first time and you're all awesome people. I'd like to thank those that were there for their amazing feedback on my game. Your advice was definitely from experience not only in the coding but the entire process of community exposure and pivoting successfully.
With this, I would like to make a first installment to Be Koi - a fishy trip. I think I will split it up as follows:
chapter 0 -
Intro
chapter 1 -
Fish Mechanics and the zen of the swish.
chapter 2 -
Making your toaster do FEM
the rest N -
Hopeful heading for future updates INTRO:
I like coding natural phenomenon stuff. My games tend to grow in scope on technical details and have a severe lack of game play value. I know this, but since I do this for fun, and I have plenty of other things to do for a healthy dose of not fun, these games are just a way of scratching itches my head develops.
During this scratching, flakes of redundant time wasted mostly falls off, but now and then something neat falls out and I'll present the neat things about Be Koi here. Feel free to do something more useful with them.
So I have to do some non fun stuff for a bit. But the first installment - zen of the swish - will come soon.
EDIT:
HERE IS THE FINAL RESULT OF THE PRINCIPLES DISCUSSED HERE: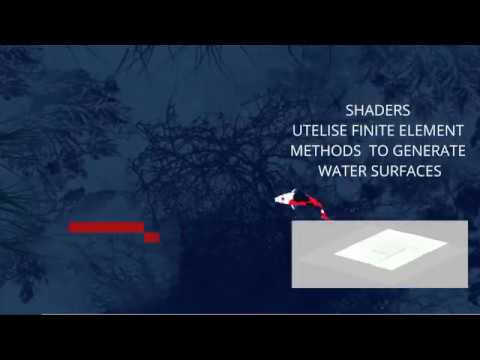 Progress Update 3: