Genital Jousting just launched on Steam Early Access, a year and a half since it was first jammed in Berlin (between myself, Martin Kvale and Daniel Schüler), 3 years after it was first conceptualized in a diagram pasted on the Tasty Poison office wall (somewhat to the chagrin of the Tasty Poison team). (Some time after Richard built the game Wang Commander)
I'm posting the trailer here, again this is not safe for work, and won't be to everyone's taste.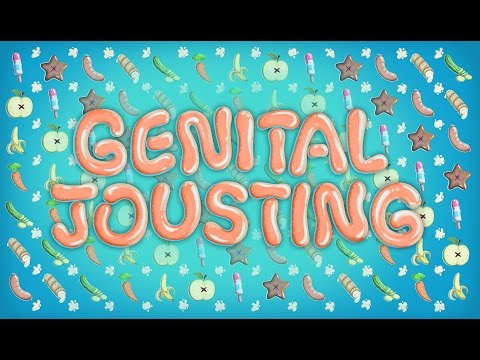 It's a 4 to 8 player party game. It's still in development, but it is now for sale.
http://store.steampowered.com/app/469820
This has been in development for a few months, but I haven't posted this here until now, because it seemed that parts of this community would not approve of the sexual themes. But the game is out now, and it was made by South African's, so I think it bares posting for that reason.
We're going to be adding more features over the next couple months. So far the reception has been mostly positive, though at the same time the game has turned up in the feeds of a lot of people who probably didn't want to discover it.
If you're curious, we've been documenting a bit of the development process (among other things), the most recent vlog can be found here: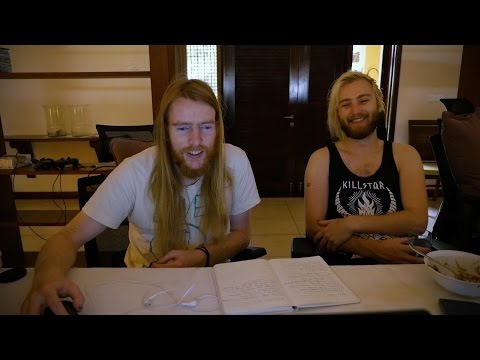 It's been a weird journey, and in some ways that journey is just beginning. We announced the launch of the game today the same day we launched it. We've been working in the dark far more than we have in the past - the reason for this is because we felt it was a game we could actually spoil (as in the curiosity for the game we felt was a valuable currency and we wanted to spend that all at launch). We'll see how that plays out, but barely knowing how people perceive the game definitely made launching the game a lot more nerve-wracking (unlike Broforce which was playable for free most of the development period before we launched it on Steam).
The game has come a long way from the original prototype, and the slightly evolved prototype that won the Audience Award at Amaze Berlin 2016. Here's a video of the state of the game at the start of this year:
This video went viral on Reddit in March this year, earning just over 1 million views, which was a large part of what motivated us to develop this game seriously.
Obviously this was a team effort. The team is as follows:
Programming:
Evan Greenwood, Richard Pieterse, Robbie Fraser
Sound:
Martin Kvale
Art and Effects:
Marcelle Marais
Online-networking:
Richard Pieterse
Script:
Jon Keevy
Producer:
Shaz Greenwood
Previous Contributors:Art (during the jam):
Daniel Schüler
Art (post jam):
Jarred Lunt, Jonathan Hau-Yoon
For us here at Free Lives (and our friends/collaborators who were involved) we're busy refreshing our twitter feeds and checking our google catch-words and seeing how this all plays out. It's likely going to be a long next couple days, but so far so good :)