Feb 2023 Update
=====================================
ROGUE SHIFT is now out of Early Access.
It was an extremely long journey to get here. At some points, the project stood still for a few months at a time and in recent years my day to day work shifted more and more toward the multiple Crytivo titles I'm working on (Farm Folks and The Universim).
But I never lost sight of finishing Rogue Shift at least to a respectable level that reached all the main objectives. For most of 2022, I spent every single weekend pushing forward to complete this project (usually putting a few hours into either Saturday or Sunday).
Since the original Early Access release, a huge amount of feedback has been taken into account and we released around 38 incremental builds to Steam to reach v1.0.
Along the way, Richard
@iceblademush
also stuck around right to the end, providing models and stuff without which the game could not exist.
Even though the game never really gained a huge amount of traction, I'm still extremely proud of the level of polish and the overall content and features achieved.
The game is on sale now at a 40% release discount:
Rogue Shift steam store page
=====================================
Sep 2021 Update
=====================================
ROGUE SHIFT is out now on Steam Early Access with a 15% launch week discount.
https://store.steampowered.com/app/611190/ROGUE_SHIFT/
Here's some brand new co-op footage: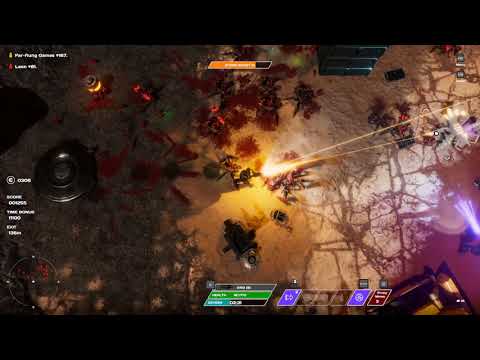 =====================================
August 2021 Update
======================================
STEAM PLAYTEST NOW LIVE!
---------------------------------------------
Our third and final public Steam Playtest is now live!
Just click the Request Access button on our Steam page and you will get immediate access to the game.
https://store.steampowered.com/app/611190/ROGUE_SHIFT/
This release includes a wide variety of new features compared to the previous playtest, like optional secure areas to reach and the new weapon upgrades system.
Please note that the online scoreboards have been cleared for this Playtest release.
The online scoreboards will also be cleared again on day one of the Early Access release.
EARLY ACCESS RELEASE DATE
---------------------------------------------
Rogue Shift will release on Steam Early Access on September 7th.
The initial Early Access release will include:
- Story mode chapter 1 and 2.
- Doomed mode with one map (Edge of Doom)
- Escape mode with one map (Outpost)
- Co-op up to 4 players for Doomed and Escape.
Read the full details regarding the Early Access release here on our Steam page:
https://store.steampowered.com/app/611190/ROGUE_SHIFT/
Feb 2021 Update
--------------------------
Still pushing forward.
In January, we completed a Steam Playtest event that ran for a week.
Since then, we've been fixing bugs and implementing priority improvements.
Now, we're launching a second Steam Playtest, starting Friday 26 February 11am PST.
You can join directly from our Steam Store page:
https://store.steampowered.com/app/611190/ROGUE_SHIFT/
Dec 2020 Update
--------------------------
Hope everyone had a good Christmas! And also, happy new year :)
I can report steady progress on the game.
Here's the new trailer.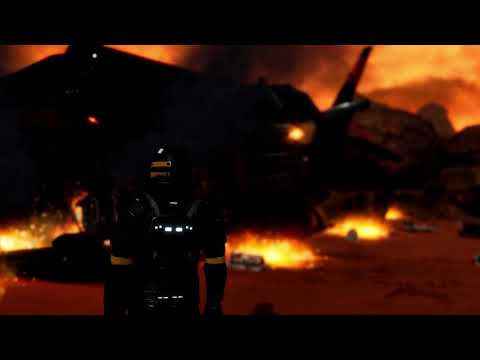 Nov 2020 Update
--------------------------
Wow, it's been a long time. The general pattern hasn't really changed since my previous post. I'm tied up doing development on The Universim on a day-to-day basis, and have been for a few years now. I'm certain not complaining, because I'm actually working in the game dev industry, and that's great.
Of course, this has left my own game lagging behind for long stretches of time. But, I've come so far, that it would be a total shame to not see this thing through to completion.
A few months ago, I worked with my publisher to finally pin down a better name and overall brand image, as well as fine tuning the game in a better direction with better focus and better consistency between gameplay modes. It's a long story.
Co-op gameplay has also finally been fully restored, and this is looking quite promising.
I've been forcing myself recently to work on Rogue Shift on Fridays (at least partially), and also over the weekend. I've been working with a small number of individuals, getting some amazing critical feedback, and moving things forward. The pace has been reasonable in the past few months, and I continue to make progress on a weekly basis.
I realised that I've not been on this forum for a long time... in part probably beause it was kind of getting tedious and a bit embarrassing to repeat the same message of "delay", "futher improvements", "yet another branding change", etc. But here we are again :)
We're considering doing either a KS, or Early Access release soon - entirely depending on stats like our Steam Wishlist and our KS pre-launch followers.
Our KS pre-launch page is here:
https://kickstarter.com/projects/far-flung/rogue-shift
Our Steam Store page here:
https://store.steampowered.com/app/611190/ROGUE_SHIFT/
Finally, I would like to extend an invitation to anyone interested in giving further critical feedback that can help us fine tune the game. Our focus is now especially on getting rid of annoying things and confusing aspects. Anything that might hinder a smooth and fun gameplay experience. To join in giving feedback, please chat to me on the Discord server:
https://discord.gg/FSDtax6
Thanks for you time!
I will leave you with a new video that I uploaded recently but haven't yet shared anywhere:
https://youtube.com/watch?v=fsD7J4IEjn8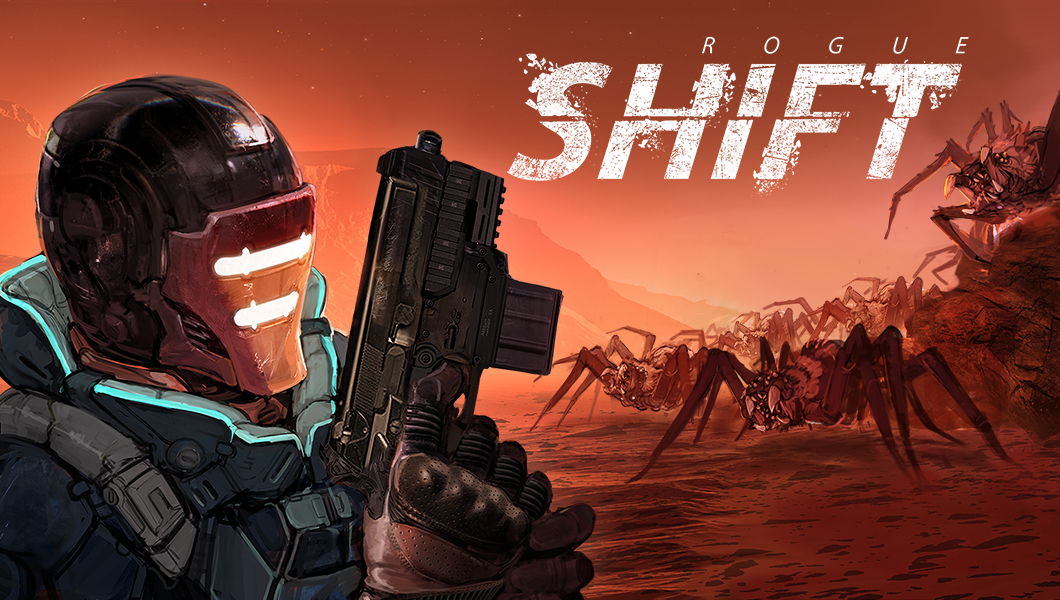 Sep 2019 Update
-------------------------
Hey everyone. After a while of having to work on other projects, I've returned to INFINITE for a few weeks in order to revive Doomed Mode. This is an infinite enemy waves survival mode that existing in a slightly different form way back in 2016.
So this mode is now up and running and we also have a Steam build for private testing. This makes it way more convenient to try the game and to get small incremental updates automatically. If you wish to participate, please join our Discord and let me know to get you access to the private testing channel.
https://discord.gg/wg3TN73
The latest build includes Story Mode (around 10 to 20 minutes demo), Doomed Mode (1 map) and Escape Mode (1 map). I would say that Doomed Mode is above the rest in terms of intensity and fun factor, and will probably end up being to core mode in the game.
There really isn't very much left to do or develop now, and it's really time to focus in on a Kickstarter date. The idea now is to have a reasonable KS goal to complete the core modes like Doomed and Escape (more maps, enemies, guns, etc.). Story Mode becomes a stretch goal, due to it being incredibly time consuming and expensive to develop in comparison with the other modes. I will be working with my publisher to get a KS date figured out.
I would say we have some community building to do before then. I've been completely neglecting that side of things for months now, and my focus will return to that now as much as possible. I'm still working semi full time on other projects for incoming, so the only way forward for INFINITE is to succeed with a KS, or fail. But the eternal limbo state has to come to an end.
Here's a little preview tweet link showing a little bit of Doomed Mode. I will be doing daily tweets on this and other modes to rebuild interest again from scratch for the 100th time :)
https://twitter.com/infingame/status/1169186851950866432
Thanks for reading! It turned into a bit of a wall of text almost.
Apr 2019 Update
-------------------------
We have an internal build ready. This includes about 10 to 15 minutes of Story Mode, as well as Escape and Hardcore Escape (1 map). Please see my latest comment if you are interested in playing and giving some feedback. Thanks!
Jan 2019 Update
-------------------------
Please see my comment dated 03 Jan for the latest.
July 2018 Update
--------------------------
Please see my latest/recent comment with video, requesting feedback.
Thanks!
June 2018 Update
--------------------------
Mech teaser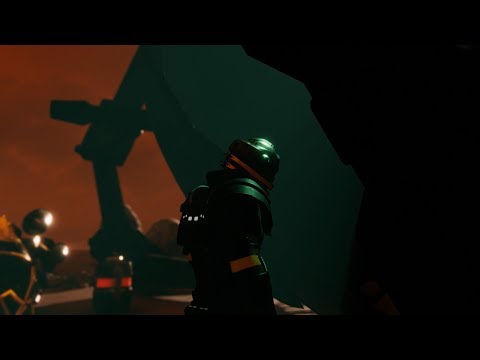 Story Mode cinematic trailer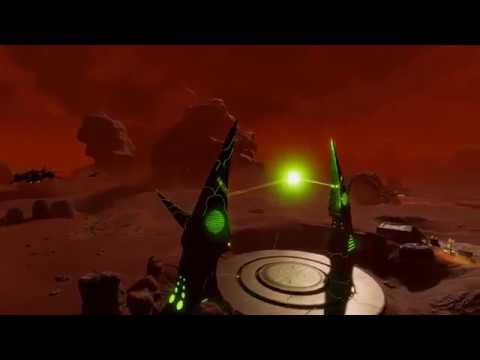 May 2018 Update
--------------------------
New website
http://playinfinite.game
December 2017 Update
----------------------------------
Just a short teaser using the latest footage from the game:
Gamescom 2017
------------------------
If anyone is at Gamescom, you can try Infinite Desolation at Hall 10.1 Aisle C.
Gamescom demo preview: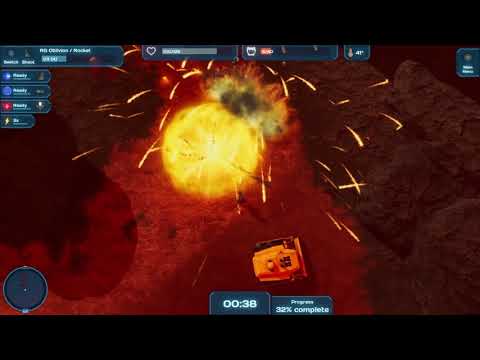 Play the game
----------------------
Infinite Desolation GameJolt page
Greenlight
----------------------
steamcommunity.com/sharedfiles/filedetails/?id=756543989
Trailer
----------------------
Other links:
----------------------
YouTube:
https://www.youtube.com/channel/UCGOP0rAL8BtGjuNeJGJI42w
Twitter:
https://twitter.com/farflunggames
(@farflunggames)
Facebook:
https://facebook.com/infinitedesolation
Description
----------------------
Infinite Desolation is an intense action survival RPG, set on a harsh planet where your physical and mental attributes will be tested to their limits.
Face the environment and hostile hordes to stay alive against the odds.
Infinite Desolation is a unique fusion of very intense top-down action and deep survival RPG.
Please give feedback and thoughts to help us polish this game :)
Thanks!