Hi!
Welcome to Bear Chuck!!!Latest build of Bear Chuck! (26 Sep 2013)
Windows single executable:
http://www.thesteventu.com/share/bear_chuck/Bear_Chuck_v_latest.zip
Gameplay video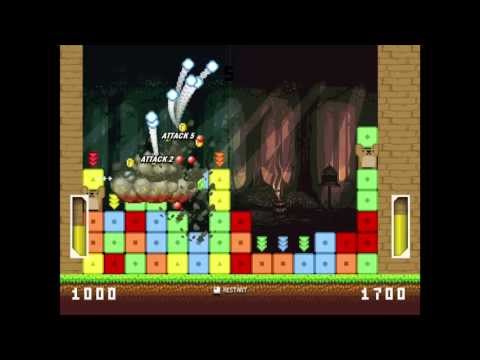 Official page
http://www.tuism.com/bearchuck
Bear Chuck is mash of concepts that can be best described as Angry Birds meets Super Puzzle Fighter with a good dose of Bomberman thrown in. It's also in super early pre-alpha prototyping, so it'll probably become even more :)
Do you remember those days when you were up into the wee hours, battling tooth and nail with your friend sitting right next to you on mad frantic games like Puyo Puyo? Tetris Attack? Bomberman? Bear Chuck is one of those couch versus games where the stakes are high, the action is fast, and skills make 'em SCREAM - and come back for more! Boom! BOOM! BOOM BOOM BOOM! ARRRRGHGHHH F**K YOUUUUU!!
As I'm mostly focusing on mechanical prototyping for the moment, I've not gone into graphical polish much yet, and as such a few bits are borrowed from elsewhere (Thanks gorgeous Metal Slug explosions!). All observations and feedback welcome!
Brief changelog:3 October
> Prettier title screen.
> A new controls explanation screen.
> Some title music. No jokes. 1 Octoboer
>
Overhauled the gamepad controls
- the aim is now no longer absolute according to the position of the analogue stick, but the stick "moves" the aim... That means if you let the stick rest, the arc stops moving, as opposed to being reset to zero.
>
Drop block button
added - any of the face buttons, or clicking the right stick. For mouse controls it's still right click.
> Removed the power bars for now cos they're not useful right now. Will add them back as I can.
> The number of blocks that fall from above will increase over time, putting pressure on the game to actually end, if both players are damn master bears :P
>
Fixed main menu bugs
- all the directional controls now work, and the face buttons will get you playing the game (on both controller one and two), and you can click "play!" with the mouse, too.
> Fixed the AI freezing up bug :)
25 Sep
> AI that ACTUALLY BEAT ME. More than once.
> A new menu worthy of the Bear Chuck name.
> Brand spanking new gameplay video starring Bears!
> Will be at rAge expo 2013 from 4 – 6 October!
19 Sep
> Settled on the new name Bear Chuck! Just too adorable :)
> Updated the animation and upgraded the AI a bit more
> Added a few more effects
> The combo system now works! Chains will add exponentially more attacks to the other side – e.g. a match of 4 will be an attack of 2, and match 5 will attack 3. Each chain adds a multiplier to your attack – so at combo 2, the attack will be multiplied by 2. E.g.: First match of 4 creates attack 2. Then another match of 4 is the result of a chain reaction – and that attach will be multiplied by the combo factor of 2 for an attack of 4 (2 x 2).
19 Aug
> You can select from control schemes on main menu (mouse vs controller, controller vs controller, mouse vs AI)
> I included the basic AI to play against!
2 Aug
> A new title & screen...? This brings about a theme discussion. Do you like it?
> There are gems to collect!
> General mouse control improvements
> There's now a chicken as P2. Cos the sky is falling, see?
7 July
>
Attack system
added!
> Life and getting damage added
5 July> 2 player added!
Must have controller for player 2 due to the analogue requirements of the control scheme - sorry if you don't have an analogue controller!
(A xbox controller (wired!) should work though I haven't tested it yet - my PS3 controller works with
MotioninJoy
emulator. Make sure you turn the xbox360 controller emulation profile on if using this!)
> You can run with the blocks!
> Title screen with control explanation added
> Haven't added "dropping" blocks without throwing them, leading to a a related bug for P2
> Haven't added life and score yet
Features wishlist:
☑ AI opponent
☐ Better AI opponent
☐ Score system
☑ Combo/chain system
☐ Much improved graphics and theme
☐ Different characters with different abilities
☐ Single player tutorial into levels with…
☐ Boss battles!
☐ General polish!
The question stands... Should I rush a playable of this for rAge just to give myself a deadline and kick my own ass? It's nowhere near completion, like NOWHERE, of course, but... Well, I feel like I need a real deadline to kick my own ass.

Or is it way too soon and I shouldn't kick my own ass like this when I have a day job and probably don't have enough time? XD

O senseis of makegamesSA, please assist XD
Bear Chuck will be at rAge 2013!!! :D