Red-Hot Robot Ultrarena
A stompy mech sim arena shooter by Gazza_N
At long last, after many years, Red-Hot Robot Ultarena is available to play for free on Itch.io.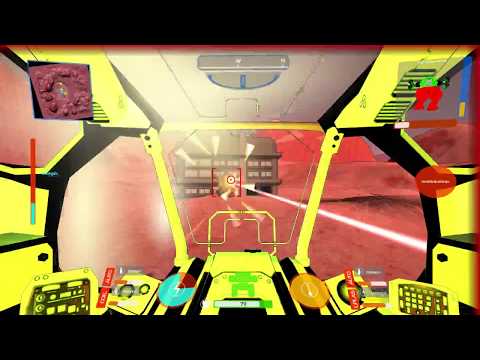 https://gazza-n.itch.io/robot-ultrarena
November 2018
The reasonably-polished vertical slicamabob has a release date. The somethingth of November 2018, but no later than the end of the month. Wheeeeeeeeeee.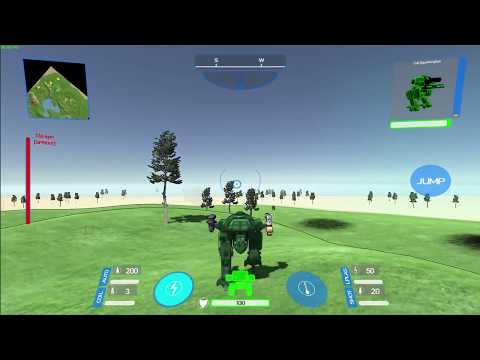 Hoctober Hedit H2015
New menu system prototype! Yay! Get it
at this heah leenk
(PC - 22MB ZIP)
Edited September 2015
It's been a while, but the game has advanced in leaps and bounds. I'm pleased to offer all y'all yet another playable version for feedback and subsequent improvement! Wheeee!
Some video-style snippets of gameplay with still-not-my-bloody-music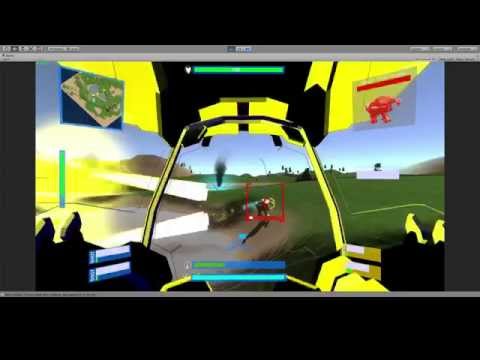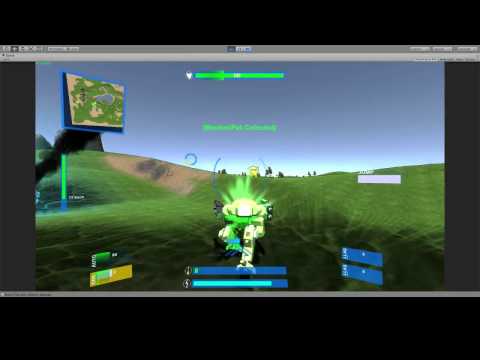 I've decided not to bother with web-player versions from here on out. They're convenient for distribution, but don't suit the input system very well.
You can get the
Standalone Build right here
as a 22MB ZIP.
NOTE: You can hit F1 during a match to bring up a really crappy overlay that shows all the controls. A proper tutorial is pending, promise.
Please give it a whirl and let me know what you think. I value ALL feedback from my players - it's why the game's come as far as it has. :)
For those who care, a short list of all the major changes since March:
- Totally revamped the art style for the game. Now cel-shaded. It looks way better.
- All the particles.
- Added new mech art and animations courtesy of volunteer artist
@Pierre
. He's done damned good work, and even more shiny new weapon and mech models are inbound to make the game look even more delicious.
- More particles.
- Major rework of AI, especially pathfinding, using numerous techniques to make enemy mechs feel smarter, steer better, and do less derptastic things in combat.
- Yes, particles.
- Tweaks to the HUD to clarify and polish ALL the things. The most important addition is that the deadzone for mouse turret rotation is now explicitly shown AND customizable on the Pause screen during a match, so you can set it to be as sensitive or loose as you want.
- Part. Icles.
- The mech has a computer that speaks to you, voiced by yours truly. I can't wait for people to recoil in horror when I speak to them after this.
- I. AM. SPARTICLES.
- Tweaks to balance. Tweaks to handling. Tweaks everythewhere. I'm constantly tweaking and refining the game, to the point that I can't remember all the little changes I've made. It all feels better now, though. Promise.
Edited March 2015
Here we go, boys and girls. The time for mere talk is past. It's my great pleasure to release the fully-playable Ultrarena Vertical Slice! Yaaaaaaaay!
This vertical slice is essentially a rough, self-contained deathmatch game. Enter your name and the kill ceiling, outfit your mech with the weapons you want, and try your best to hit the kill limit before anyone else. If you die, you respawn to try again. You should know the drill. There's only one mech to choose from, and only one map, but it should give you an excellent feel for how the game plays and the mechanics. The game's still prototypey, so it's still built from programmer art and standard assets, there are bugs and niggles and missing things, and it's rather light on content, but it's certainly quite playable and meaty enough for a good few minutes of stompy fun.
HOWEVER, this is still not an FPS. The trick to this game is mastering control of your mech. If you're new to mech games, or Ultrarena as a whole, I recommend you watch these tutorial videos to get an idea of the controls and the tricks available to you. Even if you've played previous builds, watch them anyway - it's mutated a lot since the last build, to the point that it feels like a completely different game.
WHAT EVEN IS THIS I WANNA LEARN I WANNA LEARN
Movement Tutorial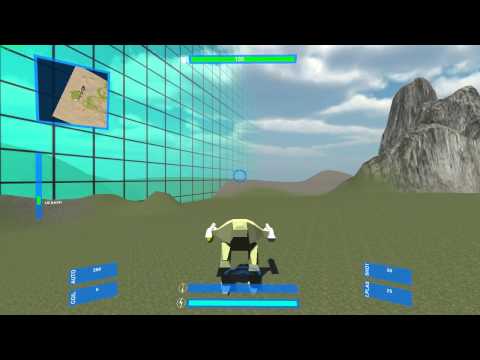 Weapons Tutorial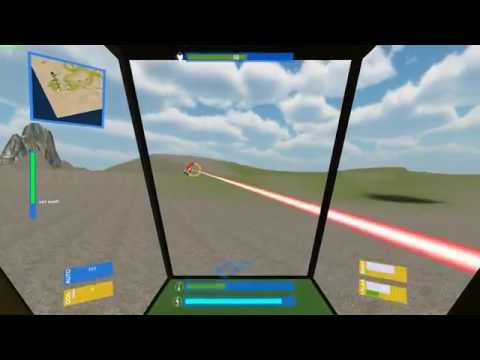 I LIKE WHAT I SEE I WANNA PLAY I WANNA PLAYWeb Build

- 8MB - For browsery playings. Requires the Unity web player.

Standalone Build

- 21MB ZIP - For the pilot on the go.

Please feed

me

back

You like what you see? TELL ME. I am dying to know what people think of the game as it is, and what suggestions they have for making it better. Based on the reaction, I'll know where to take it from here. Please giff feedback, no matter how mundane. Every tiny bit helps me to know whether I'm wasting my time here or whether I've got something worth expanding. Don't be shy!

Original Post

Herro all. I've spent the last few weeks putting together the beginnings of a single-player mech simulation arena-shooter.
Simulation is the key word here - the idea has been to meld the detailed piloting aspects of Mechwarrior with a tournament structure a-la Unreal Tournament, resulting in short rounds of intense combat requiring smart use of your piloting skills. Since all the modern mech games out there (Mechwarrior Online, Hawken) are multiplayer. I wanted to create something I could play alone in short bursts without loads of story and elaborate content.
This is a very early proto. Needless to say the art's all placeholder. Behold the glory of my low-poly cubescape! I've not yet implemented many weapons, or the mech selection and customization features you'd expect from this sort of game, but I have a rough playable version going with some rudimentary AI to test the feel of the controls and combat. For now, my AI is rather too good at its job.
You can play a web-build of the prototype by clicking
HERE
. Controls are on the page.
You can also check out some day-by-day videos I made showcasing the game's early assembly by clicking
HERE
.
It's early days, but now's the time to start nitpicking. Questions are welcome, and any feedback would be greatly appreciated!