Magess [prototype] [boardgame]
Say hello to
MAGESS: A fast-paced skirmish game won and lost on poker-face bluffs and chess-level tacical command!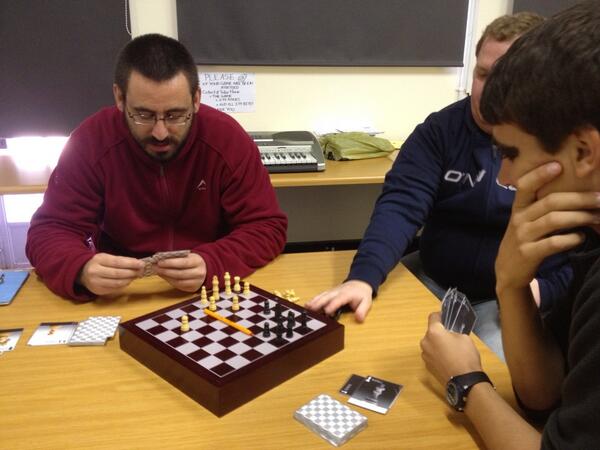 I managed to finally rope some playtesters for this little idea I've had for a while - I'm calling it Magess for now, and it's my idea of changing Chess to be less deterministic, more bluffing, customisable, yet still maintain the tactical flavour of the original Chess. (It started its life being called Magic Chess :P)
What you need to play:
The game can be played with
>
a regular Chess board
, and
>
two sets of Poker cards
.
(I did make custom cards for myself - thanks Minuteman Press... If anyone is interested in Print n Play lemme know and I'll upload the file, but Poker cards are the easiest to get hold of.)
A summary:
> The game is played on half a chess board (Thanks to
@Rigormortis
for this suggestion! It's super cool!),
>
Each player chooses their two generals
before the game starts. You can choose any two of these: Rooks, Bishop, Knight. You can have two different ones or two same ones. This is a bit like deckbuilding in CCGs.
> You play the game by playing cards out of your hand of four cards to move pieces.
> You always maintain a hand size of 4, so you draw up after each move.
> You can also throw away two cards to draw two cards, forgoing a move.
> You can only move pieces that you have cards of (in hand), except:
> You can also move the piece corresponding to the top card of your discard pile by discarding any card from your hand - therefore you can always move the same piece two turns in a row. This is called Doubling.
> This is a Chess game with hidden information and bluffing!
You can
download the full rules PDF here
:
https://dl.dropboxusercontent.com/u/15257303/game_dev/Magess_rules_v001.pdf
Playtest experience:
Playtesting had been super revealing, as I'm not a very good Chess player myself, I didn't see the game in the same way people who played Chess more expertly than I did - it was interesting to see how they reacted to the mechanics originally - when I didn't have it at half-board the game dragged out and the seasoned Chess players didn't enjoy the game as they couldn't execute their original understanding of the original Chess game.
So halving the battleground created some really cool choices
- first of all the selection of pieces so that players had meaningful choices before the game started, and made the game sharper and faster - even more enjoyable for non-Chess veterans, and changed the game enough such that veterans didn't feel chained, but instead it really felt like they were playing a new, different, yet familiar game.
Besides that we added a sidestep for the Bishop - as having a half-board severely limited its movement - so much that it was almost unusable and therefore would probably never be selected. The sidestep allowed it to change its aspect (I like to think of it as a Shaman of the Night - able to switch between Day and Night aspects like a Werewolf :P) and remain relevant throughout the game much more.
What I still wanna do:
> More playtesting! Please try it out if it sounds like fun! :D
> Add a 4 player variant/expansion.
> Change up the scoring system (especially for the 4P variant since player elimination would suck) to be valued per capture or something.
> Create "original pieces" for the game - so they really move away from being "just Chess with cards" -
@Rigormortis
suggested this too, I think it's a great idea, and one day I could 3D print my own custom pieces for Magess XD
> New, different kings? New, different generals?
> What else? :)
Cool - any input would be super appreciated! I know it's hard testing multiplayer stuff XD But it's what I love most about games :) So... I'll keep bashing multiplayer stuff out I guess!!! XD
Thanks for reading!!
:D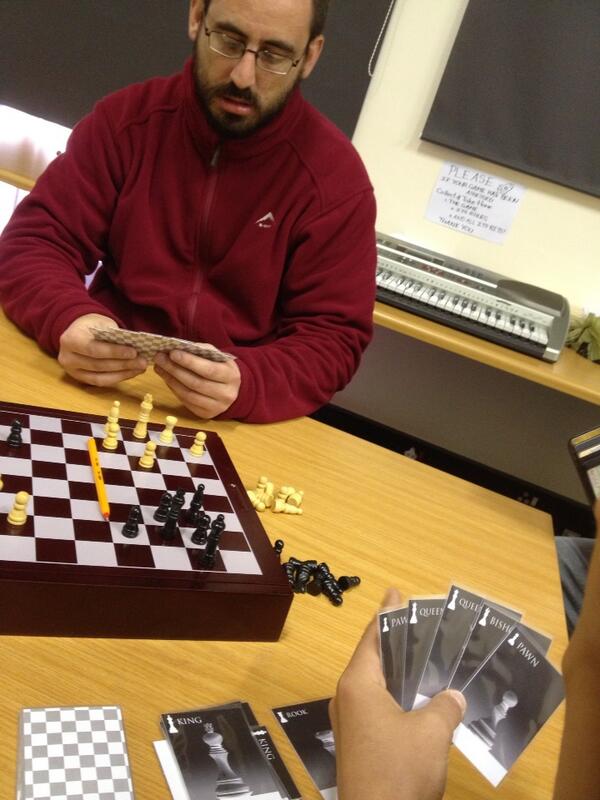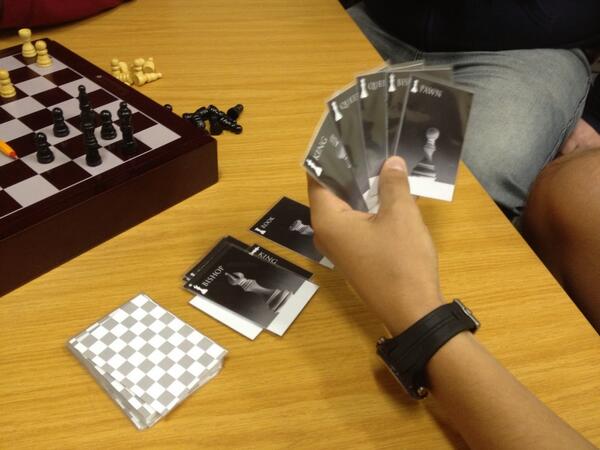 pdf
pdf