Escape Velocity
I thought I would do a postmortem on a prototype I have been tinkering with in the hopes that A ) others may have insights into the design challenges I struggled with and B ) it might give other people interesting ideas.
Web Build
What is?
Escape Velocity started as my entry into this years Global Game Jam. It is a very simple game. The player controls a centipede like creature which accelerates along a closed circuit. The player has only one button which when pressed will launch the creature from the circuit. The creature will either hit and kill another player or end up on another circuit.
The game is essentially a deathmatch. First to 8 kills wins. Kills are obtained by hitting another player side-on. With every kill the creature becomes longer, making successful players more vulnerable while providing a clear visual indicator of the number of accumulated kills.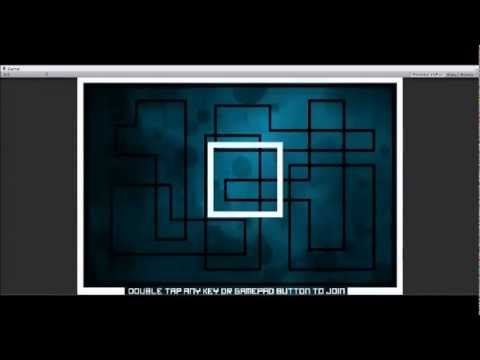 Why is?
I wanted to experiment with how many people can share a single keyboard and create interesting social/physical interactions between players. I was inspired by
Fingle
:). Later I became curious about how many people can play on a single pc sharing the keyboard and multiple gamepads. The current iteration theoretically supports up to 20 players, however I have not tested with more than 10 and suspect it will become laggy.
What went wrong
Writing my own line intersection tests.
For some reason unity does not provide any functions to perform simple 2D or 3D line intersection tests. I spent a great deal of my global game jam time implementing my own and fighting floating point bugs. If anyone knows of a lightweight, simple and robust library that provides these functions I would love to know about it!
Visual noise
Although the mechanics in Escape Velocity are pretty simple, the game itself is quite frustrating and difficult to follow. Players join the game by selecting a key and the double tapping it. Its quite difficult to associate the key you just pressed to an avatar on screen. When everyone joins at once its chaos. Although I tried to keep the aesthetic clean and simple, clearly displaying more than 6 players concurrently is a challenge.
So What went right
Music by Creative630
@Creative630
created an awesome soundtrack for me during the jam which encouraged me to push on with the game, even when nothing else was working.
Rage Spline
I love building things with splines, and had been keen to try RageSpline for a while. With it I was able to mock up assets and levels in seconds. Its simple and really straightforward to use. Documentation could have been more thorough, but the source code is well structured with well named variables, making it easy to extend any functionality I needed.
I finished it!
... kinda. Finished is a pretty strong word. But the game has a title screen, a level structure, and a basic game loop, which is more than I can say for a lot of my past games. I really want to hone the skills with finishing projects since its pretty damn difficult, but very gratifying.
I found that the upper limit for players sharing a keyboard is about 8 people due to both physical space and certain keys blocking the signals of others. I think that the design space of 'many players one device' is really interesting. I'm keen to explore it further. I think my next attempt will likely have much slower gameplay that can scale to support 10 to 20 players. I'd love to know about other games that follow this design.