[Prototype] Shifting Sands
​Shifting Sands is a 4X game where you manage a single city sprawling across the sands of a desert that changes shape when you don't keep your eyes (or city) on it. It's mostly a prototype to test this mechanic at this time, so there's no goal yet, and very few repercussions for a failing economy.
​Full screen is definitely recommended!​ Click on the blue button in the bottom right.​
https://ramperkash.itch.io/shifting-sands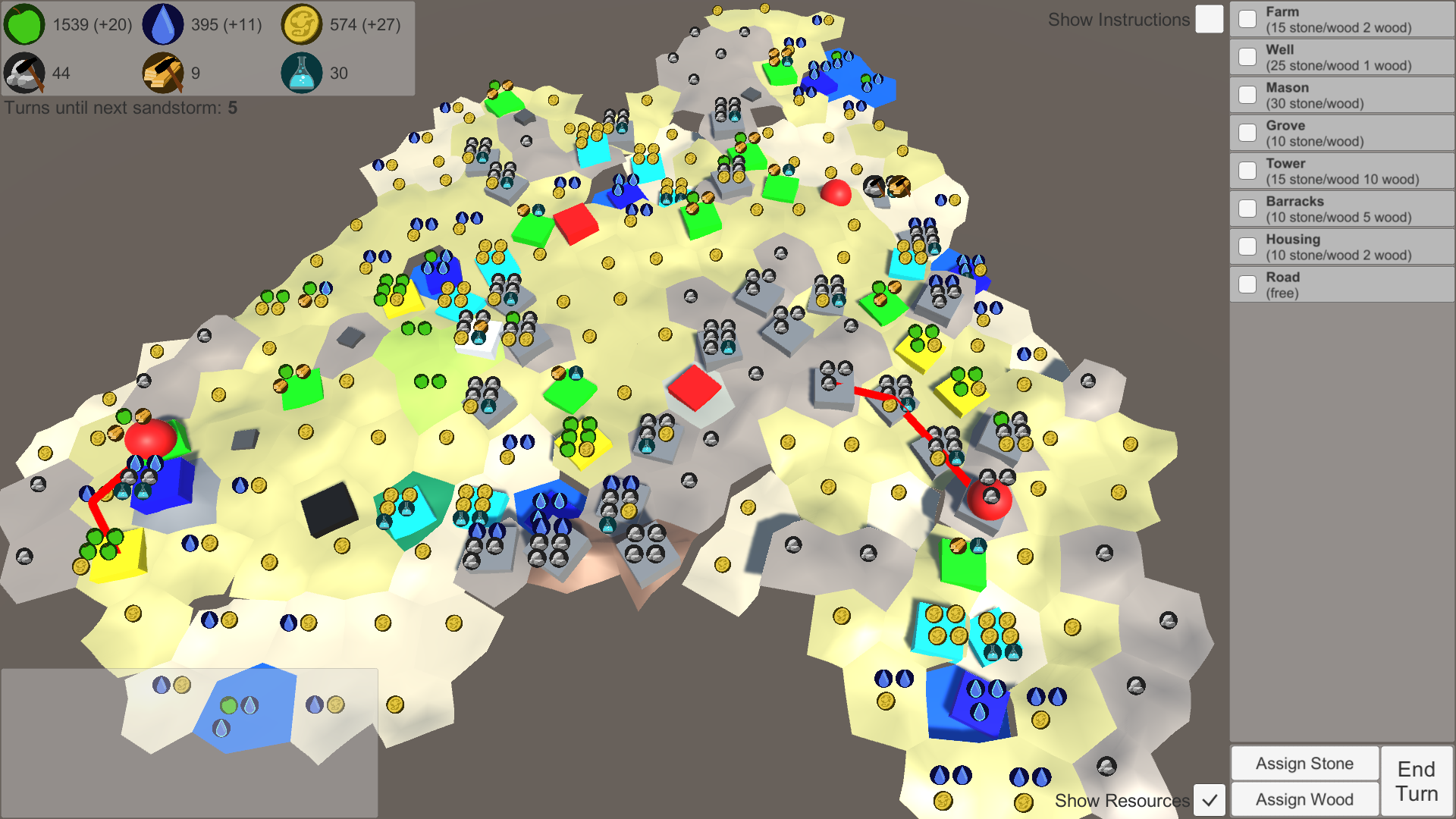 The game can be played with only the mouse, and most of the controls are described in-game. Actions consist primarily of left-clicking on units, buildings, buttons and right-clicking to order units to move or placing buildings. Instructions are given at the top and can be toggled on and off.
Information not described well in-game:
* Stone, Wood, and Tech resources do not stockpile and are automatically spent each turn. Tech is unused at this time.
* Stone and Wood are both used to construct buildings by assigning them to buildings under construction. Use the "Assign Wood/Stone" buttons in the bottom right, when they're not assigned they'll automatically be assigned to a newly placed building.
* Most buildings require both Stone and Wood to be built, but Wood can be used instead of Stone, whereas Stone cannot be used instead of Wood.
* The Water icon with an outline are considered water sources, and water sources cause water to be harvested on adjacent tiles (equal to the water source minus one).
* Units cannot move onto mountains or water tiles, although buildings can be placed on these tiles, including roads.
I haven't had a chance to playtest it often yet, so feel free to ask anything, and I'll try to answer quickly.
Note, this is obviously a prototype so a lot of things are definitely wrong with the game in its current form, that said, any feedback would be appreciated.​ For example, feedback on the UI isn't very useful to me as it is currently mostly tacked together to make it playable; any interesting ideas, or low-hanging fruit suggestions are still valuable though. The buildings and their dependencies on each other (via upkeep) is also not set in stone at all. I'm somewhat fond of the water source to food/wood/gold pipeline though so please feel free to criticise that.
The questions I'm most keen on having answered:
* Do you find there's something to latch onto with regards to the exploration -> sandstorm -> re-explore mechanic?
* What goal do you think would lend well to the type of game? My current thoughts are to require you to find certain structures in the sand and link them to your city, but that doesn't feel good enough to me here.
* Do you think combat makes sense for the game to some degree? I was thinking enemies could spawn out of the fog-of-war adding a need to keep tiles uncovered (instead of waiting for good tiles to generate).
* What repercussions make sense to you for running out of food/water/gold? Currently only stone/wood have repercussions to running out/low.
* Obviously there isn't much content at the moment so cities will somewhat quickly feel like they're maxed out (building anything new in a single turn, and never feeling like you'd run out of a resource), do you think this won't change by adding more expensive buildings unlocked via tech etc.?
* Please feel free to share any ideas you think could mesh well with the current iteration of the game, or even propose drastic changes you feel would improve the game.
Edit: I forgot these:
* Does exploration feel interesting enough to you? Are you excited if you find water if you're running low, or when finding a bunch of special tiles?
* Bonus question: You might notice that any location is valid for any building, let me know if any changes in that would be interesting. I've been testing it with the "requirement" of groves only being placeable on tiles that supply wood already.
Thanks for having a look!