[MGSA Online Jam 1] Fireteam
Fireteam
Gameplay video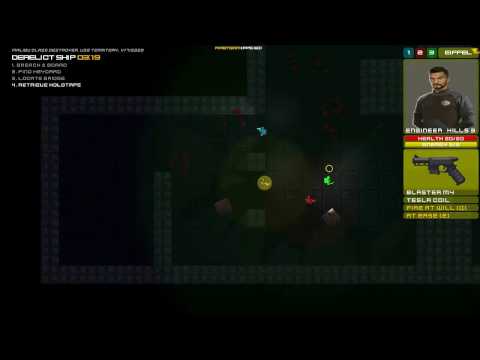 Download playable demo here (Fireteam-PC-v1.0) 21MB
"Congratulations Commander, you are finally in charge of your own fireteam of our finest space marines.

Your mission awaits. Take the initiative against overwhelming odds.
Will you cluster your team together for superior firepower or spread them out to have greater visibility of the battlefield?
Each marine is unique. Utilise them wisely.
Under your command the fireteam will achieve glorious victory, or perish miserably.

Remember, we are watching..."

[end of transmission]

Concept & scope
Player must manage a team of marines and eliminate infestation on spaceship, deck by deck.
Player chooses 4 marines from a pool of 6 (unique personalities).
Each marine has single unique weapon and ability.
Enemies:
spawn pit
ship automated turret
Weapons:
(varying range, firerate, damage, ammo)
1) fist (short range)
2) pistol/blaster like (medium range)
3) scatter/ricochet type (medium range)
4) lazer snipe thing (long range, low fire rate, penetrate multiple)
5) machine gun (medium range, high fire rate)
6) shotgun/flamer like (short range high damage)
Marine abilities
(all are passive, ranged and/or intermittent)
1) auto heals nearby marines + has higher health
2) slow nearby enemies
3) reveals unseen enemies
4) fast marine + buffs fire speed of nearby marines
5) shield dude perhaps?
6) ammo dude (in the rear with the gear)
General gameplay:
Field of view & line of sight visibility limited on map
Player manages team movement and positioning
Keep marines alive
Clear level, move on to increasingly difficult scenario
Out of scope: maybe procedural levels, if concept works, with stacking difficulty ala Devil Daggers.
Making use of static levels using the Tiled editor. Makes for easier placement of mission objectives.