[SA Game Jam 2016] Synth Band
Synth Band
is a VR
(Vive-only)
Music sequencing environment!
- Professional (man it's weird to say that, but there's no way I'm a hobbyist. Or am I?)
- 48hr
Download link
(Vive only):
http://makegamessa.com/uploads/FileUpload/aa/db0a20df9f791b1ebc3991c39178d1.zip
Gameplay video: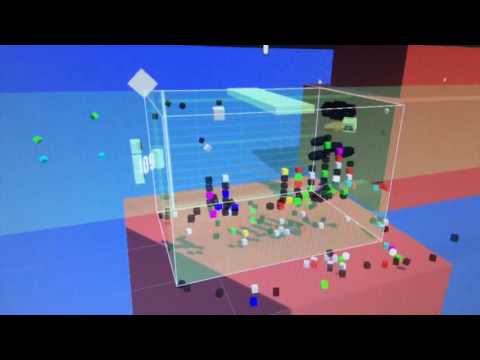 With the theme of Expression, I completely deviated from what I planned to do for the jam to do this baby :P
During brainstorming for Expression, I arrived at the original idea of a group musical experience so people can jam music together. Also, I wanted to learn more stuff about VR!
In Synth environment you can:
> Change the BPM.
> Chain up samples that play through the major scale by position.
> Scrub through more than one bar of music - so you can create a whole song.
> Copy blocks/samples.
> Pause playback.
> Switch between looping the current bar or the entire song.
> Play a drumkit.
> Throw things around, build stuff :)
The original idea was to have an asynchronous experience in which the main player in VR is supported by other players on controllers or other devices, doing other things around the environment like playing drums, and firing musical blocks onto the sequencer.
The main technicality in getting to that was to output a different camera to the monitor to what the VR headset sees, which I didn't work out in the allotted time - I think there's a technical flaw in the SteamVR library that conflicts with the Vive that works with Oculus VR, but I can't be sure.
zip
zip