Cartel [card game] [prototype]
What is Cartel
Competitive boardgame
2 - 4 players
Play time 30 minutes
In Cartel, you are the head of a criminal gang in a Cartel. Face off against other forces by building business towers to grow your forces, maneuver them to control the most lucrative buildings to generate income, and corrupt officials to gain advantages over your opponent.
But watch out! When corruption gets out of hand, someone could turn Snitch and sell everyone out for the win!
Update: June 10:How to play video: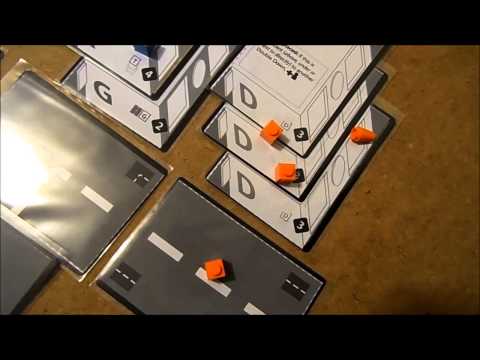 Print n Play PDF file
version 0.5! Grab it from this link:
https://www.dropbox.com/s/61j1hkoz6hfq7nm/Cartel_Prototype_PnP_printer_friendly_latest.pdf?dl=0
----------original post--------------
Looking for help playtesting this game! It's a bunch of cards which I put together with sleeves and magic cards, we can meet up if you'd like, or I can send you Print n Play files if you're awesome :D
After a couple of playtests, some major tweaks and overhauls, I'm happy to show you my latest card game design - Cartel V3.0! :D
Cartel is a two to four (tentatively) player game where you play the head of a corporation in a Cartel. On the surface, you're building a metropolis of thriving commerce, but in the shadows, you vie for dominance against other Cartel lords by racketeering for territories with your hired muscle and manipulating the City by pocketing shady officials… But careful, rely on corruption too much, and everyone may be snitched out by a traitorous member of the Cartel!
Isometric stacking buildings with cards!
The design of this game began with the idea of cards that make isometric, stackable buildings. This idea lent itself to a game of territorial control - and as I'm the BIGGEST Netrunner fan in the world, it had started as a game called Corporate War - the name of a Netrunner card. (How's that for a piece of pointless trivia :P) I'm not going into the history of this game much more than this :P
At the heart of Cartel are these buildings, or floors, or businesses, which give you points when they're A) controlled by your thugs, AND B) placed correctly. There are four types of businesses in the game, each only generating benefits when placed in their preferred spot:
A - Anniewares General stores are worth one point anywhere in the city. They are unrestricted in placement because Seven Elevens don't care where they are.
T - TopTech Technologies are worth three points when they remain at the top of a building at the end of the game, because tech giants need a view.
G - Groundhog Coffees are worth two points when they're on the ground floor, because I've never seen a Starbucks on the second storey.
D - DoubleDown Casinos are worth three points when they're connected to another Double Down, because casinos need to be big.
The businesses are set up in the City, and each cartel boss vie for control with...
The Muscle
The thugs are what keeps what's yours yours, and helps you move into what's not yours. As you build businesses in the City, you gain more members in your gang, which you use to move around the board and control buildings. Conflict may resolve in the removal of opposing thugs if you manoeuvre a superior number into the right place!
Thugs are also one of the ways that the game may end - when any player reaches 10 thugs in their gang, the game ends because one of the gangs has reached super notoriety, and scoring commences.
No honour among thieves
There is another set of cards that represent city officials, the proud people of City governorship… that you can get into your pocket to do your bidding. In addition to adding to your score, each personality has special powers when you buy them into your service: Constable Fernandez can call a police raid and force all thugs in one place to evacuate their current location, Senator Johns is less subtle and can pull two thugs outright off the street with a crackdown order, and Warden Manny can keep your thugs from being thrown off the streets entirely, returning them to play as long as you have Warden Manny in your pocket…
...So why would you ever lose Warden Manny? There is more than one copy of every pocket card, so when you hold any pocket personality, when someone else plays another of the same name, yours is immediately discarded. The corrupt are fickle by definition!
Pocket cards also provide the second game-ending condition - The Snitch. When corruption becomes impossible to cover up, one of the cartel lords can turn state witness and rat everyone out, ending the game. The Snitch is worth A LOT of points. How much? I haven't decided yet - it'll require a heck of a lot more playtesting to get a feel for the points. It should be a large enough payout that it should win any game outright, but it should also be possible to overcome if a player has a solid enough stranglehold on the city's territories.
Join me in The City
So that's about it for the game. There are a few things I hadn't spoken about like the road cards, which provide a sort of a limit to where buildings can be started, as well as the payment for for building up being discarding of cards, and the way you generate resources (card draws per turn) by occupying a tall building, but those are details that hold the game together while the exciting stuff happens. I LOVE thematic games, and with Cartel my goal was to create a game where you actually feel like a criminal lord jockeying for territory, using every available resource, while the cloud of being Snitched out hangs above everyone's head.
If you're interested in helping me playtest Cartel
, just leave a comment here, and I can send you a Print and Play copy of the game when it's ready! (It's still quite messy right now despite the clean look it has in the photos)
Thanks for reading!
This was duplicated from my blog post:
http://www.tuism.com/prototyping-cartel-a-city-building-combat-traitor-game/
and I would REALLY love to get you onboard playtesting :)
Download Print and Play file:
https://www.dropbox.com/s/61j1hkoz6hfq7nm/Cartel_Prototype_PnP_printer_friendly_latest.pdf?dl=0