PS Vita Port
Hi Guys,
We moving Toxic Bunny HD to the PS Vita. Well to be more specific to the Sony Mobile platform.
We looking forward to engaging with the makegamessa crowd (all of you :) ) as we do the port. You should know we planning
a lot of changes esp around the learning to play the game aspect. Tutorial coming out, in game hints at appropriate times
going in. More on that when we get there. We expect the Vita and other platforms will be a really good place for Toxic Bunny.
In the mean time here is a demo of the parallax system. We will be putting a blog up about the process (looking now
to decide where best to blog that, suggestions welcome). But the highlights are as follows.
You can watch the demo here.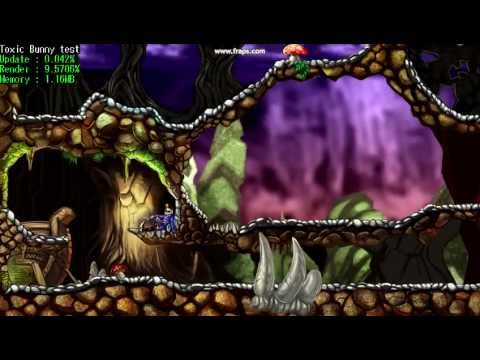 RAM : 1.5mb
VRAM: 20mb (this for all 4 layers)
A zoom feature that will be used between sprinting and walking modes to allow a more dynamic experience as you play. (really wish we could have added this to the current one)
This video is from the emulator (we will still have to check how well it performs on the devices, but at least they all more or less equal so we have a really nice platform to work with.)
This was about 5 days of work by Bryan pretty happy with the results.